July 9th, 2009 by Rick
Some call it art. Some call it graffiti. Banksy has a different view of his work:
People say graffiti is ugly, irresponsible and childish… but that's only if it's done properly.
The work of the English graffiti artist simply known as Banksy has invaded the Bristol Museum located on Queens Road in Bristol, England. Not much is known about the artist. What is known, is what can be seen through his unique ideas and wild artwork, which steer clear of commercial galleries and has been seen in various cities across the planet.
Banksy once said:
Think outside the box, collapse the box, and take a sharp knife to it.
The fact that Banksy has a wide range of different art styles and techniques, whose artwork pops up all of over the world, leaves one to question if perhaps Banksy is actually a group or collective that run under one identity. Over the years various information has come out regarding Banksy's true identity, but nothing solid.
Banksy wrote at his website:
I am unable to comment on who may or may not be Banksy, but anyone described as being 'good at drawing' doesn't sound like Banksy to me.
The thing I hate the most about advertising is that it attracts all the bright, creative and ambitious young people, leaving us mainly with the slow and self-obsessed to become our artists. Modern art is a disaster area. Never in the field of human history has so much been used by so many to say so little.
Banksy's art has been within the Bristol Museum since June 13 and will be on exhibition until August 31. The Museum is open daily from 10am to 5pm, with admission being free.
Samples of his art can be found below.
Really, if you're nearby, you must check in.
July 9th, 2009 by Rick
Looks like this 1995 U.S. figure skating champion chose the wrong ice to make a career out of…
On Tuesday, Nicole Bobek, a former Olympic athlete, plead not guilty, via video from the Hudson county jail, to the charges of conspiracy to distribute methamphetamine in Hudson County, New Jersey.
The 31-year old was arrested last week, at her house in Jupiter, FL, after a year long investigation into a drug ring. Bobek waived extradition rights and was sent to the Garden City. Nineteen people have also been arrested in connection with the drug ring.
Hudson County Prosecutor Edward DeFazio said:
She played a significant role in this operation. [...] She was actively involved in the upper echelon of this ring.
Bobek is free on bond, more than likely heading back to her other home in Manhattan, which coincidentally is in the same state where the investigation into the drug ring first began. If convicted, she faces up to 10 years and a $150,000 fine.
July 9th, 2009 by Rick
A court date has finally been set for actor of Harry Potter fame, 19-year old Jamie Waylett, who was busted back in April for having ten marijuana plants at his home in Kilburn, north London. On July 16th, Waylett and 20-year old John Innis are scheduled to appear in the Westminster Magistrates' Court.
Waylett plays the character, Vincent Crabbe, the right hand man of Draco Malfoy, Potter's schoolyard nemesis. Harry Potter and the Half Blood Prince is set for it's world premiere on Tuesday, July 14th at Leicester Square in London.
July 9th, 2009 by Rick
Five. Five dollar. Five dollar foot lonnng.
Michael Phelps is finally back on the endorsement trail, after being shunned by some of his sponsors and dropped by Kellogs, because of a picture that circulated the internet five months back that showed him toking on a bong. The company that picked up the slack? Subway.
With their sandwich shops soon to be visited by hungry stoners worldwide, the ad execs that came up with this commercial brilliantly targeted the demographic, while at the same time, having it appear as a regular commercial for those that lack the radar for pot innuendo.
Some of the subtle clues:
So… any coincidence that the video feed freezes on a frame where MP looks like a stereotypical stoner?
Maybe… the looping soundtrack playing in the background — Thank you for letting me be myself again.
Or… what about the the vibrant, eye catching colors with encrusted shiny jewels?
Kicking it… Jared watches goofy shit on TV… you know you do it too.
Easily the most obvious clue was the URL of the Subway website advertised… nice.
Perhaps the words phresh, phave, and phlavor are meant for the sub-culture circle?
Or… the use of the phrase 'The man behind the marinara.' What did you see the first time reading it?
The new logo says it all… way fresh indeed.
As Kellog's stock went down after they canned Phelps' contract, Subway only stands to profit from their new push into an old demographic that more than likely has been eating at their franchise since its grand opening. Now, the pot smokers will simply go out of their way to eat $5 foot long subs, letting Subway and Phelps rake in the green.
July 9th, 2009 by Russ
This week, ABC news reported on the newest innovation in the battle for California's medical marijuana market share.  Apparently a group calling itself the Artists Collective has been employing Twitter to coordinate weed drop offs for MMJ patients who prefer to do business in spurts of 140-characters or less. While the twits of the world are certainly proud of the entrepreneurship they've spawned, they don't represent the most unique facet of the Artists Collective business plan.
You see, Artists Collective is a registered 501(c)3 (non profit). Moreover, its entire purpose is to raise enough money to give out grants to local artists. Move over Pew Charitable Trust. There is a new game in town. While the model is still brand new, and the scale relatively small, this sort of thinking could make waves in the greater philanthropy world.
In the current system, most philanthropy dollars flow from family trusts through private foundations. The programs selected for funding tend to do very conservative study or social work. Rarely would an esteemed organization (with some former Robber Baron's name on the building) want to risk funding anything that would be considered countercultural or controversial.
Starting a foundation from the (weed harvested) ground up opens the door for a plethora of new alternative off-centered artists to finally receive some well-deserved patronage. For instance, it's about time someone put some serious greenbacks behind the efforts of the Billboard Liberation Front.
With that in mind, here's to hoping that the Artists Collective is the new JD Rockefellers of the Digital Herb Racket.
July 8th, 2009 by Rick
After dragging ass for years, by way of the U.S. Supreme Court, secret stings and raids on medical marijuana dispensaries, San Diego has finally complied to California's medical marijuana law and began issuing medical marijuana ID cards to the medical marijuana patients.
Jordan Jarvis, a medical marijuana patient and operator of Top Quality Collective, said:
This kind of medicine has given me the ability to get up and do things and be part of a society again. [...] We can now get ID cards that are and should be respected among law enforcement without harassment. [...] It's groundbreaking.
San Diego breaking down and issuing medical marijuana ID cards is a big step in California's medical marijuana movement, yet after so many attempts to circumvent prop 215, something tells me it's not the end of their fight politically.
July 7th, 2009 by Erin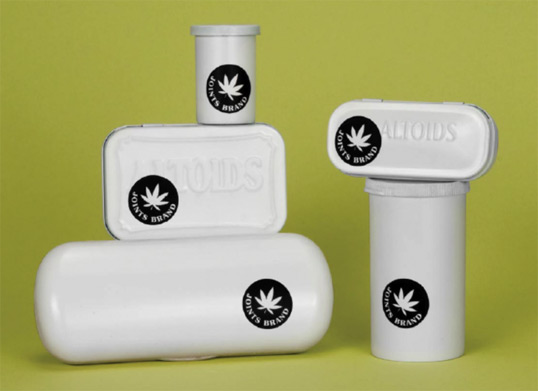 There's nothing I love more than when two of my favorite things come together, like Base Design shows us with their concept joint packaging design by recycling disposable containers, painting them white, and adding the iconic black pot leaf sticker.
Altoids containers
film canisters
glass cases
R/X pill containers
Tom Greenwood of Base says:
There's a whole ritual and tactile experience that goes with smoking, and we didn't want to detract from that. [...] Nobody owns marijuana, man.
The intent of the design is to send a "green" message while understanding that everyone rolls differently; hence the various shapes and sizes of containers.
July 7th, 2009 by Rick
The Prince of Pot, Marc Emery, is saying goodbye to Canada by way of a "fairwell tour", scheduled to make its mark in 32 cities, before he is extradited to the U.S. for selling cannabis seeds to U.S. customers.
On Sunday, Emery began the tour in Calgary saying:
I'm being taken to a U.S. prison for something I did in Canada as innocuous as selling seeds, which don't even have any drug quality, and yet I have to face a five year term for that. [...] It's difficult to say what will happen in a U.S. federal penitentiary. It's never very pleasant. American jails aren't run nearly as well as Canadian jails. [...] I'm going away for a long time so I expect everybody to do their best and pick up the slack for me.
Emery is referring to the fight coming up in form of bill C-15, a federal bill that would impose mandatory minimum sentences for marijuana in Canada. The bill has already passed the House of Commons and it is now in the hands of the Senate. Emery advises activists to back the NDP, the Bloc, and the Green Party — all pro-cannabis political parties.
Emery's fairwell tour continues in Saskatoon on Wednesday and Edmonton on Thursday.